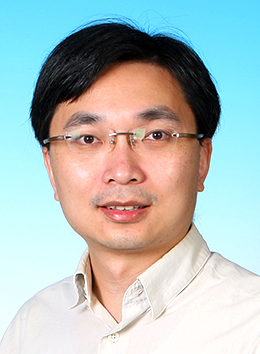 Kam Tim
WOO
胡 錦 添
PhD in Electrical and Electronic Engineering
Associate Professor of Engineering Education
Senior Lecturer
Founding Director of Center for Global and Community Engagement
Associate Director of Academy for Bright Future Young Engineers
Research Area
Control and Robotic Systems (CRS)
Research Interests
Engineering education
Robotics
Signal processing
Tracking systems
Profile
PhD, Hong Kong Univ of Sc & Tech
 
He joined the Department of Electronic and Computer Engineering in January 1997, and is currently an associate professor of engineering education. He is founding director of Center for Global & Community Engagement (GCE), School of Engineering in 2011. The center provides a major student enrichment program for UG engineering students in liaising with professional associations and community organizations. He is also appointed as the supervisor of HKUST Robotics team since Sept 2010.
  
Professor Woo has been very actively involved in teaching innovation. Beside developing different experiential learning courses, he encourages and mentors students to join various design competitions including Robotics Competitions, Engineering Design Competitions, Community Design Competitions, Business Plan Competitions, Student Paper Contests and Final Year Project and research competitions. Some projects is being able to contribute to the wellbeing of society and fulfilling the social responsibility.  Under his supervision, students have gained more than 140 awards since 2007, with over 70 awards won by HKUST Robotics team in the past 6 years.
His current research areas include engineering education, robotics, signal processing and tracking systems.
Multi-disciplinary Themes
Honors & Awards
Honors and Awards
Professor Kam-Tim Woo received his BEng, MPhil and PhD degrees from the Hong Kong University of Science and Technology in 1995, 1997 and 2005, respectively, all in Electrical and Electronic Engineering. He received first prize in IEEE Student Paper Contest for Undergraduate Students (Hong Kong Chapter) and second prize in Varsity Competition in Electronic Design in 1994. He was a recipient of the Sir Edward Youde Memorial Fellowship in 1995 for his MPhil. studies in motion control. 
Professor Woo has received 3 teaching awards, including the University Grants Committee (UGC) Teaching Award 2015, (encompassing all Hong Kong's UGC-funded institutions), the Michael G gale Medal for Distinguished Teaching 2015, (a HKUST-wide award that celebrates one outstanding educator annually), and the School of Engineering's Teaching Excellence Appreciation Award 2009 – 2010.