Undergraduate Admissions
The Department of Electronic and Computer Engineering (ECE) at HKUST is an exciting place to study electronic and computer engineering. We are committed to undertaking world-class research and making exceptional students extraordinary. We have amassed a talented group of faculty members with PhDs from the world's top universities. They are internationally recognized as academic leaders, inventors, entrepreneurs, Editors of academic journals, and Fellows of peer societies such as the Institute of Electrical and Electronics Engineers (IEEE), and are eager to bring the latest technical knowledge and insights into the classroom.
Our laboratories and classrooms are equipped with state-of-the-art facilities for cutting-edge research and multimedia teaching. We strive to prepare students to become outstanding engineers and leaders in the ever-changing world of high technology. Our programs cover a wide scope of modern technologies including Biomedical Electronics, Computer Engineering, Ecotronics, Embedded Systems, IC Design, Microelectronics, Photonics, Signal and Information, System and Automation, and Wireless Communications and Networking. These areas are critical to the growth of our information-based society and mastering these technologies should open up vast career opportunities.
Students may enter our undergraduate programs through JUPAS Admissions or Direct Admissions. Besides academic development, our Department also provides students the opportunity to participate in enrichment activities such as internships, exchange programs, and student competitions for their personal growth.
Applicants seeking admission based on their Hong Kong Diploma of Secondary Education (HKDSE) results should apply through the Joint University Programmes Admissions System (JUPAS).
Starting in 2012, students with HKDSE attainments will be admitted to one of the 4 Schools (Engineering, Science, Business & Management and Humanities & Social Science). Prospective HKUST students only need to opt for the School they wish to join. In the first 2 to 3 semesters (1 to 1.5 years), they will take the compulsory University Core Curriculum Program and learn the fundamentals of the major programs of the School. The Schools will provide academic advice to help students explore their aptitude and interest before choosing their majors.
Admission Requirements
For admission, applicants must meet:
the general entrance requirements, and
the following School-specific requirements: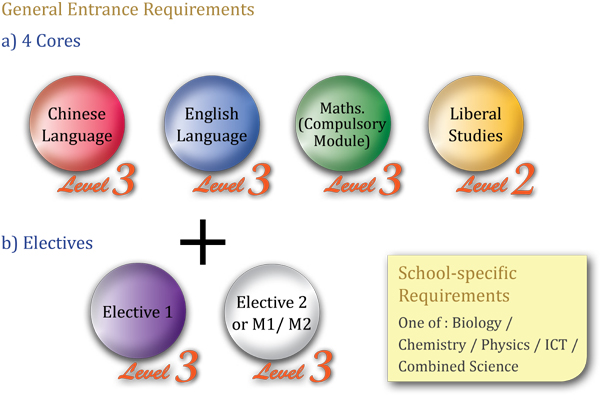 Notes:
M1: Mathematics Extended Module 1 (Calculus & Statistics)

M2: Mathematics Extended Module 2 (Algebra & Calculus)

Chinese Language may be replaced by one of the "New Secondary School other languages" or another Chinese Language Qualification (e.g. IGCSE Chinese) if

Student has learned Chinese Language for less than 6 years while receiving primary and secondary education; or

Student has learned Chinese Language for 6 years or more in school, but has been taught an adapted and simpler Chinese Language curriculum not normally applicable to the majority of students in our local schools.
Students admitted to the School of Engineering may choose to enter an interdisciplinary major upon completion of one year of study. In particular, students interested in Engineering and Business Management may wish to pursue a Dual Degree (BEng and BBA) in Technology and Management.
Useful Links
Applicants who are applying for admission on the basis of qualifications such as Higher Diplomas, Associate Degrees, or previous periods of successful full-time study at local education institutions, should apply to the University through Direct Admissions. In addition, international high school students or non-local applicants with an International Baccalaureate diploma or GCE, for example, should also apply through Direct Admissions.
Admission Requirements
A higher diploma or associate degree in engineering or a science discipline; or an equivalent qualification.
High School Students through GCE A-Level examinations
Higher Diploma Graduates from related disciplines:

Applied Physics
Applied Optics
Computer Aided Engineering Design
Computer and Information Engineering
Electronic and Communication Engineering
Electronic and Information Engineering
Electrical Engineering
Energy Management Services
Intelligent Building & Automation Engineering
Telecommunications and Networking

Associate Degree in Engineering
An equivalent qualification
Credit Transfer
Credit transfer may be granted upon admission for articulated higher diploma or associate programs. Successful applicants may also apply for credit transfer for particular courses once they have registered. Any credits awarded will contribute to the total required credits for the award of an honors degree.

Application Schedule    
 Application deadline: Early Round closes in mid Nov
 Interviews to be arranged starting in Nov - Dec
 Formal conditional offers to be given starting in Dec - Jan
 Acceptance should be returned in 3 weeks after conditional offers are issued
Useful Links
國內本科生招生
现代电子及计算机工程学是一个充满刺激和挑战的高科技领域。该领域涵盖了生物医学电子学、计算机工程、绿能电子学、嵌入式系统、集成电路设计、微电子、光电子、多媒体信息处理、控制及机器人、无线通讯及网络等多方面的技术。掌握这些知识对未来知识型经济的发展至关重要。获得良好训练的学生自然会有更多的就业机会,将来不论工 业界、金融机构、政府部门以至全球各地的大学,都可成为您一展抱负的平台。
香港科技大学是学习现代电子及计算机工程学的理想学府。本系不仅提供一流的教学,科学研究也走在世界的最前列。 本系的教师均为来自世界名校的博士毕业生。此外,系内亦拥有多个设备先进的实验室,用於进行崭新的研究和多元化的教学活动。我们的目标是将学生培养成为优秀的电子及计算机工程学科研或管理人才,让他们将来在日新月异的科技世界施展各自的才华。
就业机会
本系一直致力培养优秀的电子及计算机工程学人才。大量毕业生受聘于国际知名的企业机构,如联想、IBM、飞利浦、诺基亚、Fujitsu、微软、华为、电讯盈科、ASM等。来自内地的科大毕业生,部份选择赴北美西欧著名大学深造,亦有不少留港工作,深受香港及跨国企业欢迎。
本科生交换计划
同样,香港科技大学致力推行各种交流活动,当中包括为本科生提供充分机会,到全球逾140所著名学府,進行交流。目前香港科大有百分之二十五的本科生有机参加交换计划。各种交流活动让学生有机会了解世界各地不同文化,扩阔眼界。
奖学金
香港科技大学设有内地招生奖学金,嘉勉高考成绩卓越并在入学面试表现突出的同学。此类奖学金获奖者经由大学相关部门统一评定,毋须同学自行申请。
联络查询
电话: (852) 2358 7036
传真: (852) 2358 1485
电邮: ugchina